As an established online betting platform, we at GGBet are proud to offer an exciting world of eSports betting. Since our establishment in 2016, we've sought to provide a seamless, thrilling, and secure betting experience for eSports enthusiasts around the globe.
We understand that trust and integrity are crucial in this field. As such, we operate under the license and regulations of the Curacao eGaming Commission. Our primary goal is to create a safe and fair platform where bettors can enjoy their favourite eSports.
As pioneers in the realm of eSports betting, we at GGBet believe in empowering our users with knowledge. Understanding what eSports betting entails is the first step to fully appreciate the exhilarating experience it offers.
eSports betting is the activity of placing wagers on the outcome of professional eSports matches. Similar to traditional sports betting, it involves predicting game results but in the realm of competitive video gaming. It's a practice that has grown exponentially with the rise of professional gaming and now stands as a major segment in the online betting industry.
GGBet to provide a comprehensive array of eSports events to bet on. We take pride in offering a diverse selection of games, tournaments, and betting options. At GGBet, we continually strive to adapt and evolve with the dynamic eSports industry, ensuring we deliver the best possible betting experiences to our users, regardless of their gaming preference.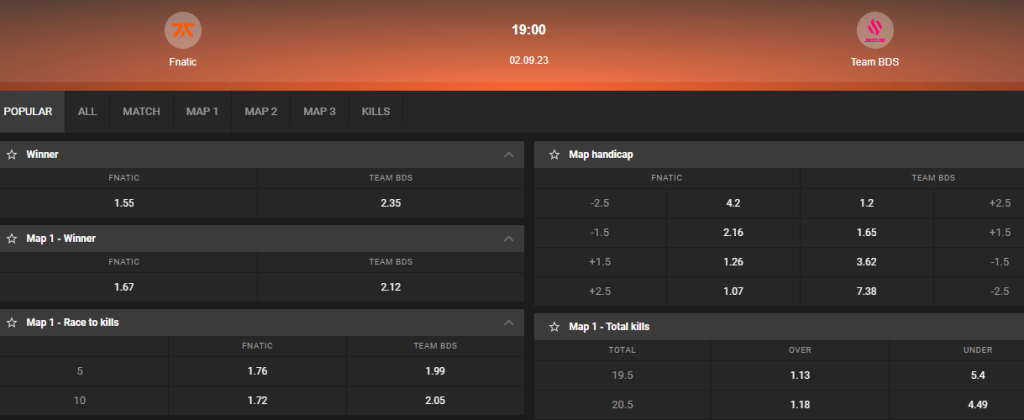 The Pulse of the eSports World: Our Popular Offerings
At GGBet, we are home to a broad spectrum of eSports, each offering unique thrills, strategic depth, and betting possibilities. From legendary names to emerging sensations, our platform caters to a diverse community of eSports enthusiasts. We value our users' varied interests and seek to provide a comprehensive betting experience, which is why our portfolio encompasses the most celebrated eSports games globally.
Our eSports Roster
| | |
| --- | --- |
| eSport | Brief Description |
| Counter-Strike: Global Offensive (CS:GO) | This highly competitive, first-person shooter game is one of the eSports industry's legends. At GGBet, we cover all the significant tournaments, including the ESL Pro League, PGL Major, and more. |
| Dota 2 | Known for its intense gameplay and strategic depth, Dota 2 has a global player base. We provide betting options for all the prominent Dota 2 events, including The International. |
| League of Legends (LoL) | As one of the biggest names in eSports, LoL is known for its dynamic team-based gameplay. On GGBet, you can place bets on major LoL tournaments such as the World Championship and LCS. |
| Overwatch | Overwatch is a team-based shooter with unique characters and playstyles. We offer betting on a range of Overwatch tournaments, including the Overwatch League. |
| Call of Duty (CoD) | A classic in the realm of first-person shooters, CoD has a robust eSports scene. At GGBet, we cover various CoD championships for your betting enjoyment. |
| StarCraft II | A cornerstone of the eSports world, StarCraft II is a real-time strategy game with a dedicated fanbase. On GGBet, we cater to its enthusiasts by covering its most significant tournaments. |
At GGBet, we continually expand and refine our selection to ensure we provide the best possible service to our eSports community. We strive to offer you an inclusive platform where you can engage with your favourite eSports and enjoy a seamless betting experience.
Diverse Betting Opportunities: Unraveling the Different Types of Bets at GGBet
At GGBet, we recognize that our users appreciate choice and flexibility. Consequently, our platform offers a diverse range of betting types, enabling users to engage with their favorite eSports in ways that align with their understanding and strategies. Whether you're a seasoned punter or a beginner, you'll find our betting options both engaging and straightforward.

Types of Bets at GGBet
| | |
| --- | --- |
| Bet Type | Description |
| Match Winner | This is a straightforward bet on which team will win a particular match. It's the simplest and most common type of bet in eSports. |
| Tournament Winner | As the name implies, in this type of bet, users predict which team will emerge victorious in a given tournament. This allows users to participate in the excitement of an entire event. |
| Handicap Betting | In this bet, a 'handicap' is given to one team, making the match more even in betting terms. This type of bet can be placed when one team is heavily favored over the other. |
| Over/Under Bets | In an over/under bet, we set a number for a specific statistic in a game (like total kills or points), and users bet on whether the actual number will be over or under this set number. |
| Correct Score | In this bet, users predict the exact score of a match. This type of bet can offer higher potential returns but is also more challenging to predict accurately. |
| Special Bets | These bets are game-specific and involve unique aspects of a match, such as the first team to achieve a specific objective. These add an extra layer of excitement and depth to the betting experience. |
At GGBet, our ambition is to cater to all types of punters, from the strategic thinker to the thrill-seeker. We're continuously refining and expanding our betting options to ensure your experience on our platform is nothing short of exceptional.
Rewarding Your Passion: The Array of Betting Bonuses at GGBet
At GGBet, we don't just offer a platform for eSports betting; we strive to make your betting experience more rewarding. Our range of bonus offerings adds an extra layer of excitement and value to your betting journey, giving you more opportunities to engage with your favourite eSports. Here's a glance at the assortment of bonuses we offer.
GGBet's eSports Betting Bonuses
| | |
| --- | --- |
| Bonus Type | Description |
| Welcome Bonus | For our new users, we offer an attractive welcome bonus. This is typically a percentage of your first deposit, giving you extra funds to explore and enjoy our platform. |
| Deposit Bonus | At times, we provide bonuses based on the amount you deposit into your GGBet account. These bonuses increase your betting balance, allowing you to extend your gameplay. |
| Free Bets | We regularly offer free bets to our users. These enable you to place bets without risking your own funds, making them a risk-free way to engage in eSports betting. |
| Cashback Bonus | Our cashback bonus serves as a safety net, offering you a percentage of your losses back over a specific period. It's our way of ensuring that even in losing, there's a chance to recover. |
| Event-Specific Bonus | Occasionally, we run bonuses tied to specific eSports events or tournaments. These bonuses can take various forms, from enhanced odds to free bets, providing an additional thrill to the event. |
The bonuses at GGBet are designed to enhance your eSports betting experience, making it more thrilling and rewarding. We continually update our offerings, striving to provide our users with exceptional value and entertainment. Always remember to check our promotions page regularly to not miss out on any exciting bonus opportunities!

Navigating the eSports Betting Landscape: Strategies at GGBet
The world of eSports betting is not just about luck; it's also about strategy. To heighten your eSports betting experience, we at GGBet encourage our users to cultivate their own betting strategies. Whether you're a novice or an experienced bettor, having a strategy can help guide your decisions and potentially boost your success.
Understanding the Game: A sound betting strategy begins with understanding the game you're betting on. Whether it's CS:GO, Dota 2, or League of Legends, knowing the mechanics, the teams, and players' forms can greatly influence your betting decisions.
Managing Your Bankroll: Just as important as knowing the game is managing your resources. We recommend setting a budget for your bets and sticking to it. This promotes responsible betting and ensures you enjoy the process without unnecessary stress.
Reading the Odds: Understanding how to interpret and calculate odds can be a strategic advantage. It helps determine the potential value of a bet and can guide you in making informed decisions.
Adopting a Consistent Strategy: Consistency is key in eSports betting. Whether you're betting on favorites or underdogs, having a consistent approach can help navigate the ups and downs of betting.
Staying Informed: The eSports landscape is dynamic, with players' forms, team compositions, and game updates constantly evolving. Keeping up-to-date with these changes can provide valuable insights for your betting strategy.
The Pros and Cons of eSports Betting on GGBet
Pros of eSports Betting on GGBet
Extensive eSports Selection: GGBet provides a vast selection of eSports for betting, from global sensations to emerging titles.
Diverse Betting Options: With a variety of betting types available, GGBet caters to all betting preferences, offering comprehensive engagement with your favorite eSports.
Attractive Bonuses: GGBet regularly offers promotional benefits, including welcome bonuses and event-specific promotions, to enhance the betting experience.
Reliable and Secure Platform: Licensed and regulated, GGBet is a secure platform with various safe payment methods, providing users with a trustworthy environment for their betting activities.
Cons of eSports Betting on GGBet
Requires Knowledge of eSports: Effective betting on GGBet often requires a good understanding of the specific eSports, potentially posing a challenge for newcomers to the scene.
Risk of Loss: Betting always carries a risk of financial loss. Users are encouraged to bet responsibly and within their financial means.
Regional Restrictions: Due to legal constraints, GGBet may not be available in certain regions, limiting its global accessibility.
FAQ for eSports Betting
What is eSports betting?
eSports betting is the activity of predicting outcomes within the electronic sports (eSports) domain and placing a wager on the outcome. This could involve betting on the winner of a game, the outcome of a tournament, or specific events within a game.
How can I start betting on eSports at GGBet?
Starting your eSports betting journey with us is straightforward. You need to create an account on our platform, deposit funds, and then you can start exploring the various eSports and betting options we offer. Remember, you must be of legal age to gamble in your jurisdiction.
What eSports can I bet on at GGBet?
We pride ourselves on offering a diverse selection of eSports. Some of the most popular games available for betting on our platform include CS:GO, Dota 2, League of Legends, Overwatch, and StarCraft II, among others.
How do the odds work in eSports betting?
The odds represent the likelihood of an event happening. The lower the odds, the more likely the event is to happen. Conversely, higher odds mean the event is less likely to occur. In eSports betting, understanding odds can help guide your betting decisions.
Can I bet on eSports from my mobile device?
Absolutely! Our platform is fully optimized for mobile devices, meaning you can place bets, make deposits and withdrawals, and even live bet on eSports matches right from your smartphone or tablet.
What kind of bonuses does GGBet offer for eSports betting?
We offer various types of bonuses to enhance your betting experience. These include a welcome bonus for new users, deposit bonuses, free bets, cashback bonuses, and event-specific bonuses. Always remember to check our promotions page regularly for the latest offerings!